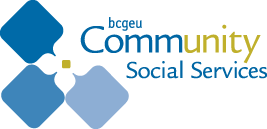 March is Community Social Services
Awareness Month!
March is Community Social Services Awareness Month: a province-wide public awareness campaign about the Community Social Services sector. The Province of British Columbia will also officially proclaim March as Community Social Services Awareness Month in the B.C. Legislature.

The BCGEU is proud to represent over 8,000 frontline community social service workers across the province.

Community Social Services Awareness month is an opportunity to shine a spotlight on the vital role the sector plays in our lives and in building safe, healthy, and caring communities across B.C. We need to advocate for the sector, straight from the front line.

We need community social service workers' to tell their stories about making a real difference in people's lives.

To this end, we are revamping this website to feature short worker profiles from across the province that detail all the incredible work you do in community living, women services, family services, child care, aboriginal services, and so many more areas.

We want to hear your stories:
what do you do,
what does a typical day look like,
what is your best story of making a difference at work?
You will shortly be able to submit a short worker profile via this website, hopefully including your picture in front of your workplace.
Stay tuned for more details!